Table of Contents
Uptime Robot is increasingly being recognized as a game-changer in the website monitoring realm. This in-depth review will unveil its key features, benefits, and why users have grown to love it. Dive in to discover if it's the right fit for your needs.
Everyone with a website knows the panic that ensues when the site goes down. From bloggers to e-commerce giants, uptime is a critical aspect of the online world. Enter Uptime Robot, a tool designed to keep tabs on your site's uptime. But does it live up to the hype? Let's dig deep.
What is Uptime Robot?
A brilliant creation, Uptime Robot emerged as a solution to monitor website uptime and downtime.
History of Uptime Robot
Established in 2010, it swiftly became a go-to for many because of its reliable alerts and user-friendly interface. From humble beginnings to serving countless users worldwide, its growth story is nothing short of impressive.
Core Features of Uptime Robot
With multiple monitoring types like HTTP, keyword, and ping, it covers a broad spectrum. Add in SSL monitoring and advanced notification settings, and it's a comprehensive package.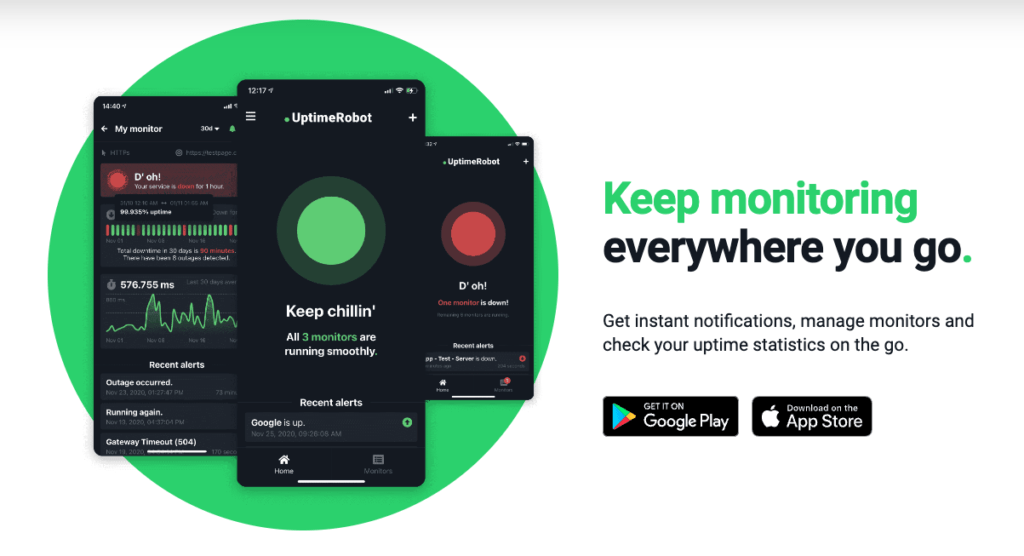 Uptime Robot Review
Ease of Use
Straight out of the box, its intuitive design makes navigation a breeze. Even if you're not a tech guru, setting up monitors is as easy as pie.
Alerting Mechanisms
Whether you prefer email, SMS, or third-party integrations like Slack, it's got you covered. Never miss a beat with its timely alerts.
Pricing Options
From a generous free tier to affordable premium plans, there's something for everyone.
Integration Capabilities
Uptime Robot plays nice with others! Its compatibility with various third-party apps ensures a seamless experience.
Uptime Robot Review 2023: 7 Reasons It's a Must-Have Tool - AdsNuke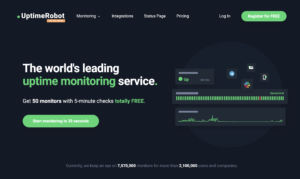 Discover the ins and outs of Uptime Robot in our in-depth review. Uncover key features, pros, cons, and see why it's a game-changer for website monitoring.
Price Currency: USD
Operating System: WebBased
Application Category: SAAS
Pros
Advantages of Uptime Robot: It's reliable, affordable, and user-friendly. Its API allows for neat custom integrations, making it a versatile tool.
Cons
Limitations of Uptime Robot: No tool is perfect, and while minor, there are a few kinks like limited SMS alerts in the free plan.
How it Stacks Up
Comparison with Competing Services
Against its competitors, it offers a fine balance between affordability and feature-richness.
Unique Selling Points (USPs)
Its extensive log retention and multi-location checks give it a sharp edge in the market.
Customer Experience
Real User Testimonials
Jane from WebSolutions says,

"It's a lifesaver! I can sleep peacefully knowing my sites are in good hands."
Addressing Common Criticisms
Some users wish for a shorter alert delay, but with its consistent updates, the future looks bright.
Setup and Usage
Step-by-Step Guide
Start by signing up, add your site, choose a monitor type, and voila! You're set.
Tips for New Users
Don't overwhelm yourself. Start with essential monitors and expand as you get comfortable.
Reliability
System Performance
Fast, responsive, and seldom laggy. It's built to perform.
Maintenance and Uptime
With 99.9% uptime, it stands true to its name.
Additional Features
API and Customization
For those who like to tinker, its robust API opens a world of possibilities.
Reporting Capabilities
Stay informed with detailed reports and logs.
Security Concerns
Data Privacy
Your data's safe and sound, protected by stringent measures.
Incident Management
In the rare event of an issue, their swift response ensures minimal impact.
How does Uptime Robot determine if my site is down?
It uses a combination of methods like pinging and checking for specific keywords.
Is there a limit to the number of monitors in the free plan?
Yes, the free plan allows up to 50 monitors.
How soon can I expect an alert if my site goes down?
Usually within 5 minutes, depending on the monitor type and settings.
Are there any hidden charges?
Absolutely not! Their transparent pricing is one of their strong suits.
Can I integrate it with other tools?
Indeed! It boasts numerous integrations with popular third-party tools.
What about the data they collect?
Rest easy; they have a strict privacy policy in place and value user trust above all.
Conclusion
To sum it up, Uptime Robot is a robust, reliable, and resourceful tool for anyone keen on maintaining optimal website uptime. With its easy-to-use features, affordable plans, and top-notch performance, it's no wonder it's the choice of many.